Sponsor Now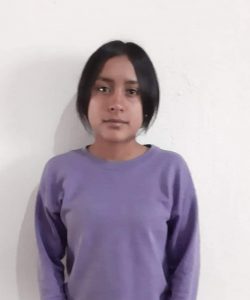 12/16/2004
7.7
Academia de Belleza.
$400.00
Sandra likes to drawing; in the school her favorite subject is Natural Science and her least favorite is Mathematics.
She likes to go to school; when she needs help to do her homework, her mother helps her.
She has a lot of friends; Sandra has a regular temperament.
Sandra helps her mom with anything. Her favorite sport is football; and her hero is her mom Lucerito.
When she grows up, she would like to be a Vaterinarian.
Her mom Lucerito has a preparatory education and her health is good. She works as a domestic worker.
Her dad Juan Carlos works as a gardener, but he doesn't live with them.
Sandra shares her home with her mom and her sister Maria. Their home has one bath, kitchen and one bedroom with one full bed. The house is not their own, they lend them.