Sponsor Now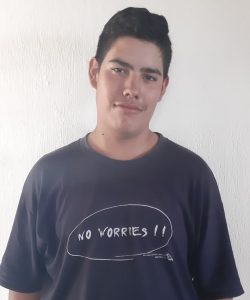 11/02/2006
7.8
Colegio Octavio Paz
$200.00
José Manuel likes to swiming and taekwondo. His favorite subject at school is Spanish and his least favorite is Geography. He likes to go school. José Manuel is very friendly and his temperament is very strong.
He helps his parents with the house work. He likes to play soccer and he would like to be a Soldier.
His father Ruben works as a gardener. His health is good. He has an elementary school education.
His mom Rosario works cleaning houses. Her health not is good. She has an elementary school education.
Adrian shares his home with his parents and two brothers. Their home has a living room, one bath, one kitchen and two bedrooms with two full beds and one single bed.