Sponsor Now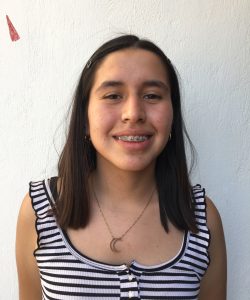 03/21/2005
100
Preparatoria Regional de Chapala
$400.00
SARA WOULD LIKE TO BE A NEUROLOGIST.
Sara is a good girl, she is responsible and kind, she likes going to school, she loves Math, she is an excellent student with a high GPA, and she has 98 of out 100. She would like to be a neurologist because she is amazed by the brain functions, regulates how your body operates. It enables you to learn new concepts, even new languages, and it stores and recalls the memories of your lifetime.
She likes to read different kinds of books and listens to music, her favorite sport is Volleyball and she has many friends, she likes to spent time with them, they sometimes go to the park. Also, she has a good relationship with her family; they usually play soccer and play board games. She helps her family with the house chores and during the mornings she works in Soriana, she doesn't earn much but it helps her to pay the bus fare. She is a good student and a hard worker.
Her dad´s name is Enrique. He studied until high school and he is healthy. Currently, he works as a water pipe driver.
Her mom's name is Maria. She has an Elementary education. She is a housewife.
Home: Sara shares her home with her parents, two young brothers, and one older brother. The house where they live is borrowed by her grandfather; it has a kitchen, a living room, and two-bedroom, with two full beds and one individual bed.