Sponsor Now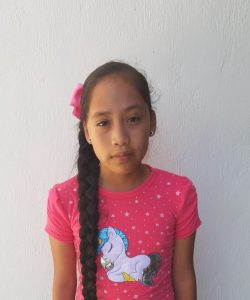 02/22/2009
9.7
Esc. Primaria "Cuauhtemoc"
$100.00
Gladis, She would like to be a Teacher. Gladis is a 11 year old student who's very neat and kind of shy. Otherwise, she loves going to school and her favorite subjects are Mathematics and Spanish. Drawing and playing volleyball are part of her hobbies, also she dreams of becoming a teacher.
Her dad´s name is Juan He doesn´t live with her.
Her mom's name is Martha. She has a junior school education. Her mother works as a handmaid to provide Gladis a full and dignified life.
Home: This tiny family lives in a rented house. Their home has a kitchen, and one bedroom with one full bed.