Sponsor Now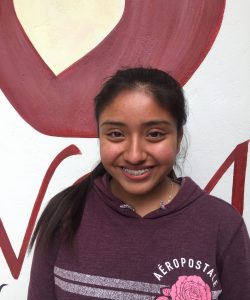 GENESIS WOULD LIKE TO BE A PUBLIC ACCOUNTANT.
Genesis is a cheerful and sociable young lady. She likes to go to school. She is a smart student and equally honest and sincere. Her favorite class is Mathematics but despite that, she does not like history. She is an excellent student with a GPA of 93 out of 100.
The main reason which she would like to be a Public Accountant is that she loves Mathematics, she said: "we used numbers all the time". She enjoys outdoor activities like playing soccer and volleyball. Also, she likes to read novels, go out with her friends, and help her family with the house tasks.
Her dad's name is Benito, he works as a gardener and also as bricklayer. His health is good.
Her mom's name is Margarita, her health is good, and she is housewife.
Home: Genesis shares her home with her parents, two older sister, two older brothers and a nephew. Their house is own. It has a kitchen, a living room, four bedrooms, and four full beds and two Individual beds.