Sponsor Now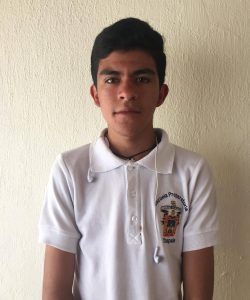 01/26/2001
91.75
Preparatoria Regional de Chapala
$400.00
Efrain, He would like to be a Politician. Efrain is a 17 year old who loves history and administration. He likes to play volleyball, also he's very into project design and he is such a good reader. One of his qualities is that he helps his parents by working during the morning, and helps his sisters with their homework.
He's an excellent student and he longs to study Political and Government Studies; democratic processes and administration of the nation are his biggest interests.
Her dad´s name is Efrain. He has an elementary school education. He works as a mechanic.
Her mom's name is Claudia. She has a junior school education. She works as a housewife.
Home: Efrain shares his home only with his parents, both support him and his sister and they live on a small rented house. They house has one living room and two bedrooms with one full bed and one single bed.