Sponsor Now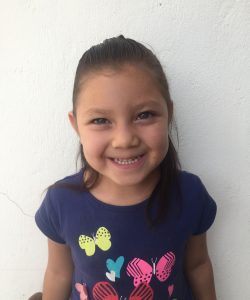 11/06/2015
8.1
Esc. Primaria "Chapala"
$100.00
This absolutely delightful 5-year-old girl with a beautiful smile has just finished her Level 3 Kindergarten, and is so excited to be entering the first grade next year!
Cheerful and friendly as you can see by her picture, wants to be a dentist for the pure joy of seeing people smile. Doesn't that bring a grin to your face?
She loves school, loves reading, and drawing and playing with her brothers. As most girls her age also like to do, dance is a favorite, and surprisingly enough, she likes to listen to English music!
Even at this young age, she helps with chores around the house such as cleaning and organizing, and she also feels good looking after her (much younger!) siblings.
Her father, Jorje, studied in school until junior high school, and is employed in the textile industry, making bags. Her Mom, named Maria, studied until high school and her job is at home to look after her family. That is comprised of Victoria, her two younger brothers and her Uncle.
They all live in a home with a kitchen, living room and two bedrooms for all of them.