Sponsor Now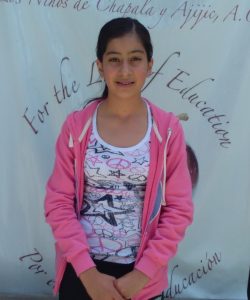 07/22/2002
81.4
Preparatoria Regional de Chapala
$400.00
Andrea likes to sing and dance. She is full of energy.
Her favorite subject at school is Physical Education. She helps her mom with the housework. Her favorite sport is volleyball, her hero it's her mom. When she grows up, she wants to be a Dentist.
Her father Ricardo has a truncate High School Education. His health is good and he works as Merchant. He doesn't live with them.
Her mother Angeles has a Technical career in Commerce. Her health is good and she works as a receptionist.
Home: Andrea shares her home with her mom and her three brothers. Their home has a bathroom, two bedrooms with two full beds and 2 single beds.