Sponsor Now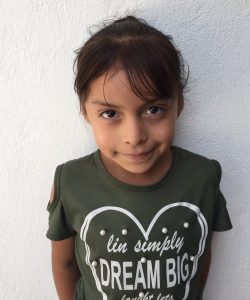 01/04/2014
ND
Preescolar Estefania Castañeda
$100.00
Dennyse is a very sociable girl. She enjoys going to school, her favorite class is Mathematics, and she likes to play with numbers, but she does not like to write so much. She has many friends and she likes to play with them.
She would like to be a Police Officer because she would like to fight against crime. She helps her family with the cleaning and keeping her toys in order. Also, she loves to go out with her family and her cousins.
Her dad´s name is Luis, his health is good. He works on construction. He does not live with them, but he supports his family with $500.00 pesos a week.
Her mom's name is Maria, she works at home.
Dennyse shares her home with her mother, two aunts, two uncle and her grandparents. It is her grandparents' house; it has a kitchen, three rooms, 3 full beds and one individually bed.