Sponsor Now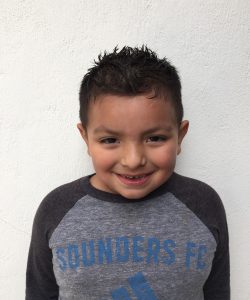 03/31/2015
nd
Jardin de Niños 303 Rosaura Zapata
$100.00
Daniel would like to be a Police officer
Daniel is a cheerful and active boy. He likes to go to school. He likes to write numbers. He loves to plays with toys, cars and to play soccer.
He would like to be a Police because he would like to help others. He helps his parents with cleaning his room. He has many friends; he likes to play with them. He enjoys going with his family to the park.
His dad´s name is Raymundo; he works in a private company as a security guard.
His mom's name is Sandra; she is a housewife.
Home: Gael shares his home with his parents, one young brother and one baby sister, also, aunt and his grandfather live with them. The house is borrowed by his grandfather. The house has a kitchen, a living room, three bedrooms, but he shares the same room with his parents and his siblings.