Sponsor Now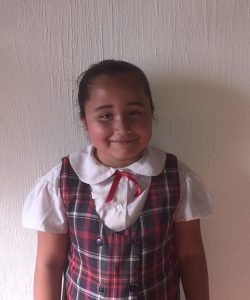 09/01/2011
9.7
Esc. Primaria "Francisco Marquez"
$100.00
Camila would like to be a Veterinary doctor. Camila likes to go to school her favorite subjects at school are Spanish and English, and her least favorite is Mathematics. She loves to dance, and cook desserts, she likes to help her mother to cook and with the hose chores. She has a friendly and sociable personality, she has many friends. She has a kidney disability. She likes to dance. When she grew up she would like to be veterinary because she loves animals and she would like to have an animal refuge. In her spare time, she always plays with her pets and watches handcraft videos.
Her dad´s name is Timoteo. He has an elementary school education. He works as a driver.
Her mom's name is Silvia. She has a junior school education. She works as a stylish.
Home: Camila shares her home only with her parents and one sister. Their home has a kitchen, one living room, and three bedrooms with two full beds and one single bed.