Sponsor Now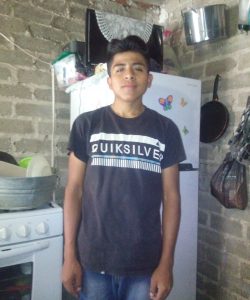 09/18/2001
85.72
UNIR Universidad Regional de Chapala
$1200.00
CARLOS LIKES TO PLAY FOOTBALL; IN THE SCHOOL HIS FAVORITE SUBJECT IS SCIENCE AND HIS LEAST FAVORITE IS MATHEMATICS.
HE HAS A FEW FRIENDS; HE IS A RESERVED BOY. HE HELPS HIS PARENTS WITH THE HOUSE WORK. HE WOULD LIKE TO BE AN ARCHITECT.
HIS DAD ALVARO HAS AN ELEMENTARY SCHOOL EDUCATION; HE WORKS AS A BRICKLAYER. HIS HEALTH GOOD.
HIS MOM MARIA HAS AN ELEMENTARY SCHOOL EDUCATION; SHE IS A DOMESTIC EMPLOYEE. HER HEALTH IS GOOD.
CARLOS SHARES HIS HOME WITH HIS PARENTS AND ONE BROTHER. THEIR HOME HAS ONE BATH, KITCHEN AND BEDROOMS WITH ONE FULL BED AND TWO SINGLES BEDS. HIS FAMILY PAY FOR RENT HOUSE $1,000.00 MEXICAN PESOS.