Sponsor Now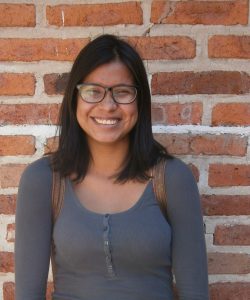 06/02/1999
81.5
Intituto Tecnologico Superior de Chapala
$1200.00
Karen likes to cook, draw, writes and listens to music. She likes to go to the university; her favorite subject at school is Culinary Bases. Her friends help you with her schoolwork when she needs. She has a good relationship with her family and friends; she has a few friends. Her temperament it's very quiet. For now, she lives with her aunt, because her family lives in Tequila. Her favorite sport is basketball; she would like to become in a "Chef".
Her dad's name is Leonardo; he has a good health. He has an elementary school education. He works for the town hall.
Her mom's name is Maria; has a good health. She has a junior school education. She works in a daycare.
Home: Karen share her home with her uncles and three cousins. Their home has a bath, kitchen and two bedrooms with two full beds and three single beds. Her uncle's pay for rent house $80 dollars per month.