Sponsor Now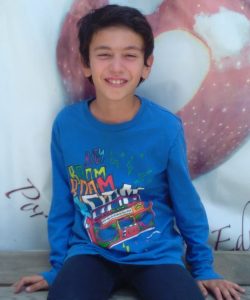 10/17/2007
8.6
Esc. Primaria "Magdalena Cueva"
$100.00
Icker likes to play football. His favorite subject at school is Spanish and his least favorite is Mathematics. He likes to go to school but he's a little restless. He has a strong personality. He has three brothers and two sisters, and his mother and older brother helps him with his school work. He has a lot of friends, and he helps to his parents by cleaning his room. He has some problems with his legs. When he grows up, he wants to be a football player.
His father Luis has a High School Education. His health is good and he works as merchant.
His mother Luz has a Secondary Education. Her health good and she is a merchant too.
Home: Icker shares his home with his parents and his five siblings. They rent the house and it has a living room, a bathroom, a kitchen and a bedroom with two full beds and a single bed. They just have built another bedroom inside the living room.