Sponsor Now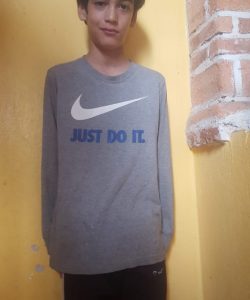 04/03/2006
8.8
Esc. Primaria "Magdalena Cueva"
$200.00
Joseph likes to go to school and his favorite subject at school is Mathematics and his least favorite is History. He has skills for run. His favorite sport is soccer. He has many friends. His parents helps with his homework when he needs and Joseph helps household chores. He has a good temperament. He would like to be an engineer in system of computer. His favorite character is Messi.
His dad's name is Luis Jesus. He has a bachelor´s degree career, he works as merchant. His health is good.
His mom's name is Luz Virginia. She has a junior education. She works as a merchant. Her health is good.
Joseph shares his home only with his parents, three brother and two sister. Their home has a bath, kitchen and bedroom with one double bed and two full beds. His mom pay for rent house $116 dollars per month.