Sponsor Now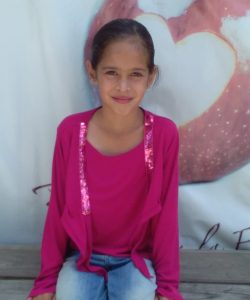 04/20/2009
8.4
Esc. Secundaria "Técnica 83"
$200.00
Gladys is a nice girl, she likes to play with her dolls. Her favorite subject at school is English and her least favorite is Spanish. She likes to go to school; her parents think that she is a responsible child with school work. She has a lot of friends, and he helps her parents by picking up her toys. Her health is good and she has a very strong personality. Also, she likes to run. When she grows up, she wants to be a Teacher.
His father Luis has a High School Education. His health is good and he works as merchant.
His mother Luz has a Secondary Education. Her health good and she is a merchant too.
Home: Gladys shares her home with her parents and her five siblings. They rent the house and it has a living room, a bathroom, a kitchen and a bedroom with two full beds and a single bed. They just have built another bedroom inside the living room.