Sponsor Now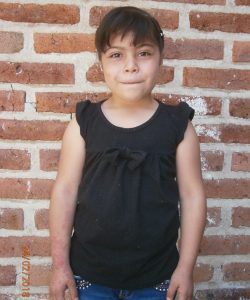 07/16/2012
8.2
Esc. Primaria "José Encarnación Rosas"
$100.00
Fatima has a dislocated hip, but her condition not is problem for her. She likes to play with her dolls and play with dough. Her favorite class in preschool is Music and her least favorite class is sports. She likes to go to school and she has a lot of friends. She is an imperative girl, but in occasion is very quiet. Her favorite cartoon is "Doctora Juguetes". When she grows up, she would like to be a "Doctor".
Her dad's name is Ernesto; he has a truncate secondary school education. He has a good health and he works as a bricklayer.
Her mom's name is Carmen; she has an elementary school education. She has a good health and she is a housewife.
Fatima share her home with her parents and her little sister Selene. Their home has a bath, kitchen and a bedroom with one full bed and one single bed.