Sponsor Now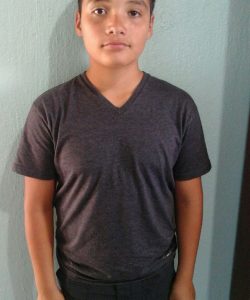 11/07/2006
9.7
Esc. Primaria "Magdalena Cueva"
$200.00
Ezequiel likes to play football. His favorite subject at school is Natural Science and his least favorite subject is History. He likes to go to school and does not need help to do his homework. He has a few friends. He has a good relationship with his family and friends. His temperament is very strong. His favorite character is "Thor". When he grows up, he would like to become in a "Teacher"
His dad does not live with them.
His mom's name is Maria; she has a technical career. Maria has a good health. She works in a bazaar.
Ezequiel shares his home with his mom, three sisters; Natalia, Sarah and Rebeca, and one brother; Uriel. Their home has bath, living room, kitchen and two bedrooms with two full beds.