Sponsor Now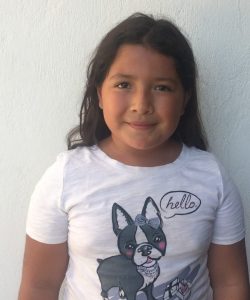 04/16/2012
9.1
Esc. Primaria "Eugenio Zuñiga"
$100.00
AIDE WOULD LIKE TO BE A VETERINARIAN.
Aide is a happy and friendly girl, she likes to go to school, her favorite subject is Language for daily use, but she doesn't like Math, she is a good student with a GPA of 9 out 10. She would like to be a veterinarian because she loves animals.
She likes to draw different kinds of flowers and butterflies, she likes to read scary stories, also she likes to play soccer and sometimes she dances. She has a few true friends, she likes to play with them, they like to jump the rope and play soccer. She spends time with her family; they like to go to the park to play. She helps her parents with the house chores like cleaning her room and taking care of her little sister.
Her dad´s name is Ruben. He finished elementary school. He has good health, he works in construction.
Her mom's name is Sagrario. She finished junior high school, her health is regular because she has thyroid problems. She is a housewife.
Home: Aide shares her home with her parents, and two sisters. The house where they live is rented; it has a kitchen and two-bedroom with one full bed and two individual beds.