Sponsor Now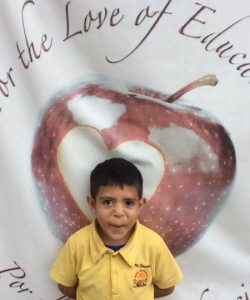 10/19/2011
NA
Preescolar "Maria Montessori"
$100.00
Jesús likes to paint and dance. He likes to play and paint at Kindergarten. He likes to go to school and he's very cute, loving and sometimes could get a little angry. He has a lot of friends, and he helps to his parents by picking up his toys. He suffers from Freeman-Sheldon Syndrome. When he grows up, he wants to be a doctor.
His mother María has a Secondary Education. Her health is regular and she is a housemaid.
His father José has an Elementary Education as well. His health is good and he works at water purifier service.
Home: Juan shares his home with his parents and two siblings. They rent the house and it has a living room, a bathroom, a kitchen and a bedroom with a full bed and two single beds.