Sponsor Now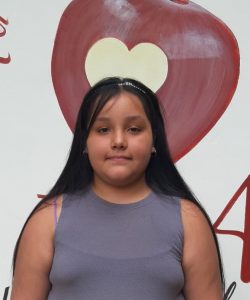 03/13/2009
9.8
Esc. Primaria "José Encarnación Rosas"
$100.00
Ariatne is a good girl her family says that she is very serious, but she loves to go to school, she likes all classes in the college a she is very smart in mathematics.
Ariatne wants to be a Veterinary because she likes helps to the animals. Also, she is good to make weaves and craftsmanship, and in her free time she read and draws, she likes sports, among her favorite is basketball. Her friends say about her that is a great person.
Her dad´s name is Jose; his health is not good. He can't work because of his health situation
Her mom's name is Susana; her health is good, she work as assistant in a school.
Home: Ariatne shares her home with her parents and her old sister. The house where they live is borrowed by her grandparents. It has a kitchen, a living room, and two bedrooms with one full bed and one individual bed.