Sponsor Now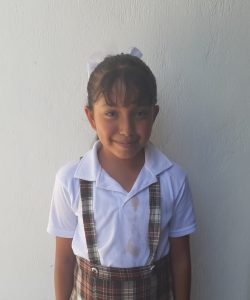 05/13/2008
9.6
Esc. Primaria "Adolfo Lopez Mateos"
$200.00
Arale, She would like to be a Doctor. Arale likes to go to school and her favorite subject at school is science nature and her least favorite is mathematics. She has skills in dance and sing. She gets along well with her family and friends, her personality is cheerful. She helps her mother with the house work, her favorite sport is athletics, and she chose the career of a doctor because she could help the people, in her spare time she likes to play dolls.
Her dad´s name is Marco but he doesn´t live with them.
Her mom's name is Alicia. She has a high school education. She works as a stylist.
Home: Arale shares her home only with her mother. Their home has a kitchen, one living room, and two bedrooms with two full beds.