Sponsor Now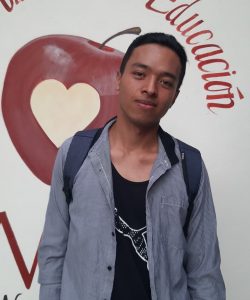 09/01/1998
90.47
Intituto Tecnologico Superior de Chapala
$1100.00
Angel is studying Computer Programing
Angel is a dedicated young man. He likes to go to school, his favorite class is Programing, because he is good at that
and in the future, he would like to run his own business. He loves soccer, in his free time he likes to play it with his friends.
He wants to be a Computer programmer System Engineer. At home he helps his parents with the house chores; also he helps his sister with her homework. He is very sociable; he likes to go out with his friends.
His dad´s name is Jose; he has his own blacksmith workshop.
Her mom's name is Adriana; she is waitress in a restaurant.
Home: Angel shares his home with his parents and one young sister. Their house is own, it has a kitchen, and three bedrooms with two full bed and two regular bed.