Sponsor Now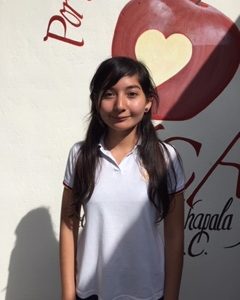 04/11/2003
98
Preparatoria Regional Jocotepec
$400.00
Andrea would like to be a Biologist
Andrea is a young woman, she is litter bit shy. She likes to go to school, her class favorite is Biology, and her least favorite is Mathematics. She has few friends. She likes to draw and listen to music. She would like to be a Biologist because she loves all kinds of animals. She likes to spent time with her family, she enjoys going to walk with them, to the park and going to the movies. She helps her family with the housework. And she loves to read novels.
Her dad´s name is Jorge. He works in Chapala in a car body shop.
Her mom's name is Bertha. She works as an auxiliary nurse in Jocotepec's hospital.
Home: Andrea shares her home with her parents, 3 sisters and one brother. Her house is borrowed by her grandparents. It has a kitchen, a living room, two bedrooms with three double beds, and one individual bed.