Sponsor Now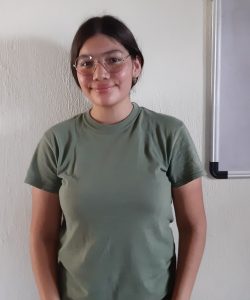 08/18/2006
9.3
Esc. Secundaria Francisco Rodriguez Gomez Foranea 75
$200.00
Grecia like to sing and made crafts. Her favorite subject at school is history and her least favorite subject is mathematics. She likes to go to school. Her mom helps with her homework; she has many friends and her temperament is quiet. She helps her mom with house work. Her favorite sport is gymnastic. When she grows up, she would like to become a Teacher.
Her father doesn't live with them.
Her mother Norma has a junior high school education. Her health is good. She works as a receptionist.
Grecia shares her home with her mother and brother. Their home has a living room, one bath and two bedrooms with 3 single beds. Her mom pay for house rent $125 dollars per month.