Sponsor Now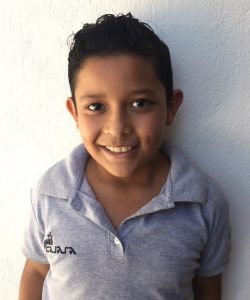 10/18/2009
8.3
Esc. Primaria "Basilio Vadillo"
$100.00
Cristian likes to go to school and his favorite subject at school is Mathematics and her least favorite is Sciences. His mother believes that he is a bright child with good skills, he likes read, draw, and the sport, his favorite sport is soccer, also he likes to help his siblings. He is shy but is a nice person, he would like to study for Mechatronic Engineer.
His dad doesn´t live with them.
His mom's name is Maria. She has elementary school education. She works as a housewife.
Cristian shares his home only with his mother, and two brothers. Their home has a living room, kitchen, and two-bedroom with one full bed in their bedroom.