Sponsor Now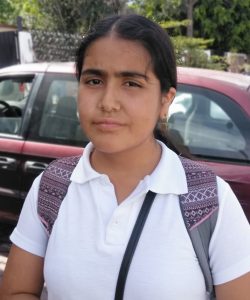 01/03/2005
100
Preparatoria Regional Jocotepec
$400.00
Michelle likes to draw and made crafts. Her favorite subject at school is History and her least favorite is Mathematics. She likes to go to school. She has a lot of help from her parents with her schoolwork. She has a lot of friends; she is very friendly. She helps her parents with the housework. She likes to draw, paint, and dance. She admires Frida Kaló. When she grows up, she would like to study art.
Her father Miguel Ángel has a High School Education. His health is good and he works as a Photographer.
Her mother Teresa has a Secondary Education. Her health is good. She is a housewife.
Home: Michelle shares her home with her parents. Their home has a bathroom, two bedrooms with one full bed and 2 single beds.