Sponsor Now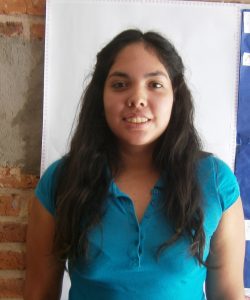 Daniela likes to read and see the movies; Her favorite subject at school is Chemistry and her least favorite subject is Communication. She likes to go to university and she makes alone her schoolwork, also she work at the weekends to help her parents. She has a few friends; her temperament is quiet and a little sociable. She helps her siblings with their school work. Her favorite activity is swimming and she would like to be a Chemistry Engineer.
Her dad Jorge Eduardo has a preparatory education; his health is good. He works in a laminating and painting workshop.
Her mom Yadira has a secondary school education; her health is good. She is a nurse.
Daniela shares her home with her parents, three sisters, and one brother. Their home has one bath, a living room, two bedrooms with three full beds and one single bed.