Sponsor Now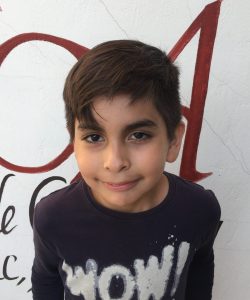 05/07/2013
9.3
Escuela Primaria "Paulino Navarro".
$100.00
EDUARDO WOULD LIKE TO BE A DOCTOR
Eduardo is a good, funny and curious boy, he is hungry to learn new things and he likes to go to school, his favorite subject is math, he has a GPA of 9.3 of out 10, when he grows up he would like to be a Doctor to be able to help others.
He likes sports, his favorite sport is soccer. He has few friends, he likes to go to the park and play with them. He has a good relationship with his family, they spent time together watching movies and playing board games.
His dad´s: name is Jorge his health is good and he works in a Body shop.
His mom's: name is Bertha her health is good, she works as a nurse.
Home: Eduardo shares his home with his parents, and three sisters. The house where they live is borrowed; it has a living room, a kitchen and two bedrooms, with three full beds, and two individual beds.