Sponsor Now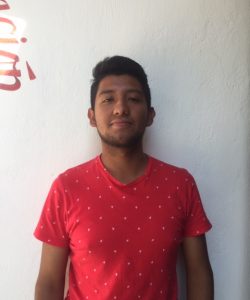 07/01/1998
87
Intituto Tecnologico Superior de Chapala
$1100.00
ALDAIR WOULD LIKE TO BE INDUSTRIAL ENGINEER.
Aldair is a very cheerful young man, he likes to go to school and his favorite class is material handling although, he doesn't like physics, he is a good student at the university.
He would like to be an Industrial Engineer because there are many things he can do for work in that field, and he can learn about many different tools. In his free time, he likes to build make handicrafts, also he likes dogs, he works for a dog training school. He has few true friends; he likes to spend time with them and also with his family.
His dad's name is David, his health is good, and he works in the same dog training school as Aldair.
His mom's name is Patricia, her health is good, and she works in a school as a cooker.
Home: Aldair shares his home with his parents, his older sister, and his grandmother. They rent the house where they live, it has a kitchen, two bedrooms, and two full beds and two single beds.
.