Sponsor Now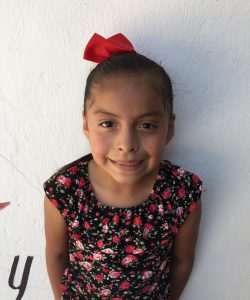 04/01/2014
10
Esc. Primaria "Juan Rulfo"
$100.00
DENNYSE WOULD LIKE TO BE A FASHION DESIGNER
Dennyse is a very sociable and friendly girl. She likes to go to school, her favorite subject is Math, but she doesn't like to write. She has excellent grade points, she has a GPA of 10 of out 10. When she grows up, she would like to be a fashion designer because she loves to design clothes for her Barbies.
She is very kind with others, she likes to draw and ride her bike, she has many friends, she likes to plays with them. She loves to go to the park with her; also she helps her mother with the house chores like cleaning her room.
Her dad´s: name is Luis his health is good, and he is a brick builder. He does not live them, but he gives her $500.00 pesos weekly.
Her mom's name is Maria her health is good, she is a housewife.
Home: Dennyse shares her home with her mother, three aunts, and her grandparents. They live in her grandparents' house; it has a kitchen and three bedrooms, with three full beds and one individual bed.