Sponsor Now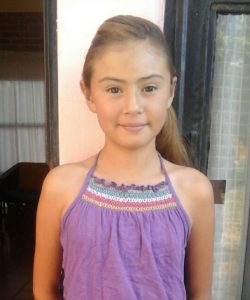 07/17/2006
78.8
Esc. Secundaria "José Vasconcelos"
$400.00
Areli likes classical dance. Her favorite subject at school is Spanish and her least favorite is Mathematics. She likes to go to school and her mother helps her with her homework. Her temperament is very strong and she has a few friends. She helps her family with the house chores. Her favorite character or hero is Sofia Carson. She would like to be a Clothes Designer.
Her dad's name is José Rubén. He has a secondary school education;
he works as a carpenter's assistant. His health is good.
Her mom's name is Lorena. She has a secondary school education; her health is good and she is a housewife.
Home: Areli share her home with her mom, dad and two sisters; Paulina and Meredith. Her home has living room, kitchen, bath and two bedrooms with one full bed and two single beds.