Sponsor Now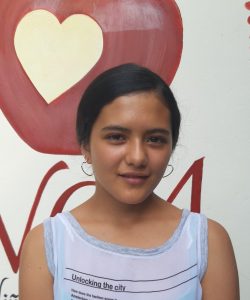 04/20/2007
9.4
Esc. Secundaria "Técnica 83"
$200.00
ABRIL WOULD LIKE TO STUDY PEDAGOGY.
Abril is a nice young lady with good qualities. She likes to go to school, her favorite class is mathematics. She is a good student with a GPA of 9.4 out of 10.
She would like to be a teacher because she thinks education is very important. She is an active person, she likes sports for which she practices taekwondo 4 days a week. She has a friendly personality for which she has many friends, she likes to spend time with them. Also, Abril helps her family with house chores.
Her dad's name is Jesus, he works in a garden. His health is good. He does not live with them and he is not providing money for the house expenses
Her mom's name is Claudia, her health is good, and she works as a maid.
Home: Abril shares her home with her mother, her older sister, and her grandmother. They rent the house where they live. It has a kitchen, a bedroom, and two full beds.