Sponsor Now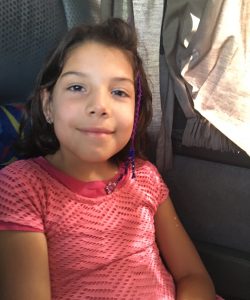 06/12/2008
Colegio Octavio Paz
$100.00
Alexandra likes to practice sports, dancing and running. Her favorite subject at school is spanish and her least favorite is calligraphy. She likes to go to school and she doesn't have complaints in the school. She made with the homework with her mother. She has many friends and she has a cheerful girl. She is necessary to use the orthopedic shoes. She likes to play with the ball and her favorite character is "Cenicienta" for her courage. When she grows up, she would like to become in a teacher.
Her father Javier has an university education. His health is good and he works as a Human Resources. He doesn't live with them.
Her mother Ana has a high school education. Her health is good and he works in sales.
Home: Alexandra shares her home with her mom and her brother. Their home has a bath, one bedroom with one full bed. Her mom pay for rent home $137 USD per month.