Sponsor Now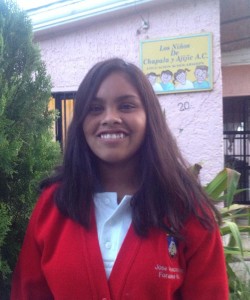 04/06/2001
7.8
Esc. Secundaria "José Vasconcelos"
$320.00
Aide has a desire to study so she can become a professional. She likes language arts and reading. She doesn't enjoys math as much. She enjoys doing house work and, she is fine with attending school each day because she likes it. She also has good friends there and gets along well with others at school. She has a quiet temperament and is quite loyal to others. She was born with a heart murmur and also suffers of asthma at times.
Her father, Marco Antonio Neri, has an elementary school education. He has good health and is 43 years old.
Her mother, Adelaida, is 34 years old and has an elementary school education. She has good health and works as a housewife.
Aide lives with her parents and younger sister and brother. The home has one room, a bath and two beds. They cook with wood.