Sponsor Now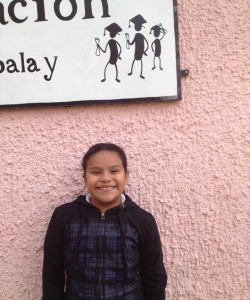 07/16/2004
8.6
Esc. Primaria "Irene Robledo"
$220.00
Laura comes from a family of four kids, her father and her mother. She is a quiet and shy girl with few friends and gets along well with the ones she has. She enjoys playing soccer, and her hero is "Miki Mauz" (Mickey Mouse). One thing she appreciates doing is taking care of others. One day she would like to become a teacher and share her talents with the community.
Her father, Jose, has an elementary school education and has regular health He suffers with a nervous problem and has to be careful with outside pressure. He works when he can find a job. He is a brick layer but also does painting or anything else that he can find to do in order to help his family have an income.
Her mother, Laura, has an elementary school education and has good health. She works cleaning houses and caring for the aged. Recently she lost her job as the lady she took care of and worked for is not around anymore. She is trying real hard to find a job.
Laura shares her home with her parents. The home has one room, a bath and three beds.