4th Annual "A Celebration of México!"
Saturday, July 29th, 2017  3:00 – 8:00 pm
Tickets will be available starting, June 6th at
at NCA's Bazaar in Riberas del Pilar, across from the 7-11
at NCA's office in Chapala,
ny email to info@NCA.org.mx,
by getting in touch with one of NCA's directors,
or call 33 1069 0084.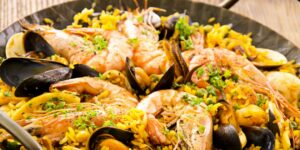 The event will be held again at the house of Nancy and Doug Friend in La Floresta.  This year for the second time, Dr. Tony Pinto, renowned chef and ophthalmologist will be donating the food to the event.  This year, Dr. Pinto in preparing Paella!
Tickets are limited, and are only $350 Pesos.  We will have a cash bar at the event serving margaritas, beer, wine, shots and mixed drinks as well as a 50-50 draw.
Please come join NCA celebrate its 40th anniversary of being an A.C. (Association Civile) charity.    your friends and family at this event.  Let's celebrate our anniversary in style with great food & great friends!